Clean-up of Flowerdale Lagoon

Flowerdale Lagoon has significant heritage value. The lagoon was a traditional fishing, meeting and camping place for Wiradjuri groups prior to European settlement. It is also at this location that Wagga Wagga is thought to have been named. During an exchange between Europeans and Wiradjuri people, a Wiradjuri man pointed to crows flying over, and spoke what was heard as 'Wagga Wagga', meaning 'a place where crows congregate'.
Flowerdale remains an important site for water birds, aquatic life and forms a popular section of the Wiradjuri Track for cyclists, runners and walkers. Unfortunately, the site is prone to being fouled with litter as a result of illegal dumping and rubbish that is washed through the city's stormwater system.
In 2016, Wagga Wagga Urban Landcare hosted an official clean-up event as part of Clean Up Australia Day. The event resulted in the greatest volume of litter collected for any clean-up site in Wagga Wagga, with an estimated 6 m3 (equivalent to 25 standard wheelie bins) of dumped rubbish and litter collected.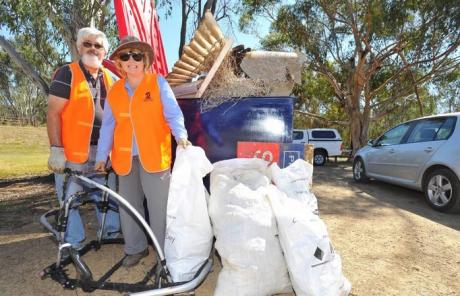 (Image courtesy of Kieran Tilly, The Daily Advertiser)