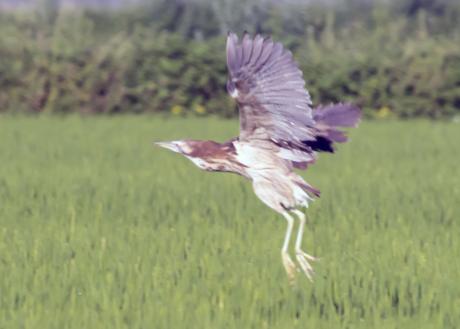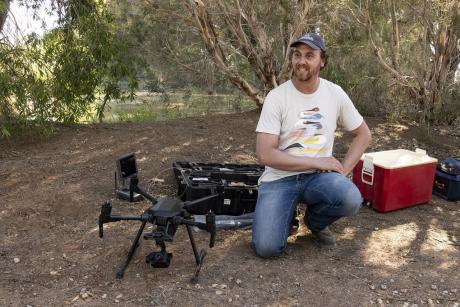 Anna Wilson (Local Land Services) and Matt Herring invited members of the MFN to visit a rice farm and to see firsthand the latest methods used by Matt in locating bittern nests in the rice crops.
Fourteen members took advantage of the invitation and on the Saturday morning (23 January) we all met outside the Andreazza Farm at Wilbriggie and moved in convoy after car pooling behind Matt and Anna around the rice fields to see if we could find any bitterns. We were very fortunate as not long after starting, a bittern flew out of the first rice bay and most of us had a good view of the bird flying off. One other bird was seen flying and several were seen with their head sticking out above the crop during the drive around. Everyone managed to get some good views of the birds and several got some good photos.
Back at the farm house, we stopped for morning tea which Anna generously provided and Matt showed a video of the use of the infra-red camera had which is attached to a drone. Despite the warm morning Matt was able to fly the drone over the rice crop and showed us how the infra-red camera can detect warm-blooded creatures in the area. The best time to use the camera is at dawn and dusk when the temperature difference is greater and the warm-blooded birds can be easily located. Matt was excited as on the previous day, he located a nest in one of the bays that had a young chick in the nest – the first he'd found this season.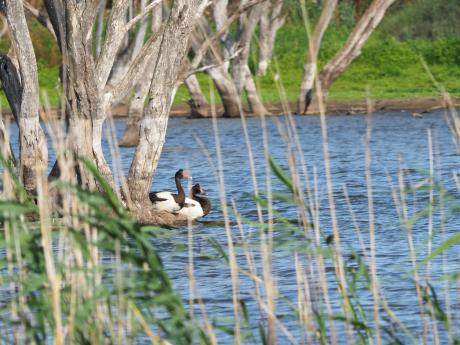 Ten of us met at 7.30am at the Campbell's car park. Defying all predictions about 42 degrees that day, we nonetheless looked forward to getting in at least 4 hours before the heat got too much.
First sighting on arrival was a flock of well over 100 Glossy Ibis flying out of the swamp and heading out to feed in the rice fields. Then a pair of Swamp Harriers circled over the wetlands – the male bird being very active diving into the reeds where I suspect there is a nest.
We decided to head first to the northern end of the swamp in the hope of seeing or hearing bitterns. Some, Virginia and Nella actually, glimpsed a Little Bittern flying out of the cumbungi but it was all too brief for any of the rest of us to get onto it before it disappeared back into the reeds. There was no sign of any Australasian Bitterns that had been in the same part of the swamp for the past 2 months – they may have already headed for the rice fields to set up their breeding sites.
Birds were few and far between on the water but there were a pair of White-fronted Chats feeding on the shore line along with a Black-fronted Dotterel. Out in the water there were several Magpie Geese and on the far bank, a family of them were escorting a bunch of goslings. That would be the third clutch I have seen there this Spring.
Few places, if any, in other parts of the country can boast of so many without travelling a long distance to see more. What is of concern though is the difficulty these past few years in tracking down what once was easy-to-see species like Turquoise and Mulga Parrots. The Mulgas are still about but not in the numbers they were a few years ago prior to the last drought. With Wattle Dam dry for the latter part of 2019 and the early part of 2020, these once common species seem to have moved elsewhere. Even with the local dams now full, the birds are still not being seen in the numbers they once were.
There is one exception and that is the Superb Parrot which has been around the Leeton area all year albeit in much reduced numbers compared with the present Spring and Summer. Once it was almost impossible to find any even along the river in late Autumn and Winter but now a small number can be seen regularly in the Leeton Golf Course all year. When I first came to live in Leeton and took part in the annual Twitchathon, Superb Parrots were always a bogey bird as by the time of the competition in late October, it was still difficult to locate any. Now, they can be seen flying over town in small flocks of up to 10 birds at most times of day since early September.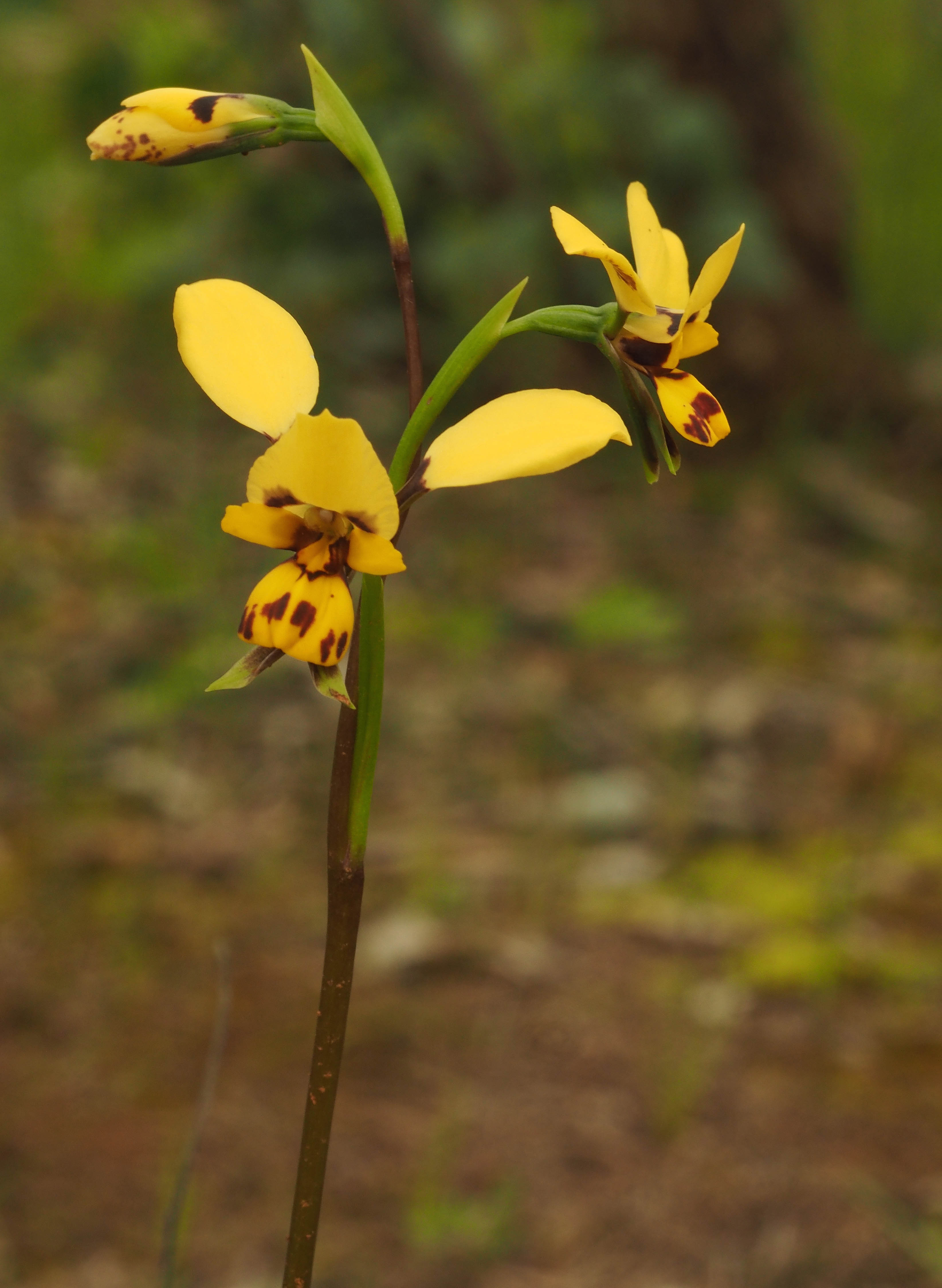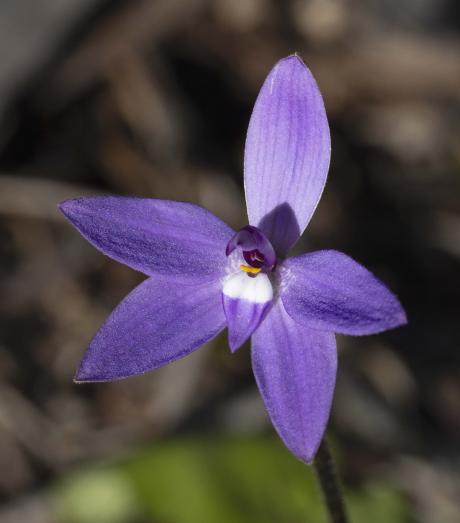 Some field naturalist outings can be defined by a signature event. This is one in which fellow attendees nod knowingly when a certain phrase, in context, is uttered – even years later!
I think the outing to Bundidgerry Hill, above and adjacent to Narrandera's Rocky Waterholes on Sunday August 30, was such an event.
I call it the "Donkey Orchid" trip.
Safe to say, it was a floral experience that I have never had before; nor am I likely to have again.
For my whole life I have had an abiding love of wildflowers, especially orchids. On bushwalks as a child my father always carried a magnifying lens (purloined from an old camera) with which we would peer into the radiant sanctuary of small wildflowers: especially orchids! - an eternal delight and indelible memory.
In years past I have seen – but most infrequently – Donkey Orchids, but always in small numbers. So to exit the car and stand among literally hundreds of these glorious little flowers in full bloom, flourishing right across that arid hillside, was a revelation.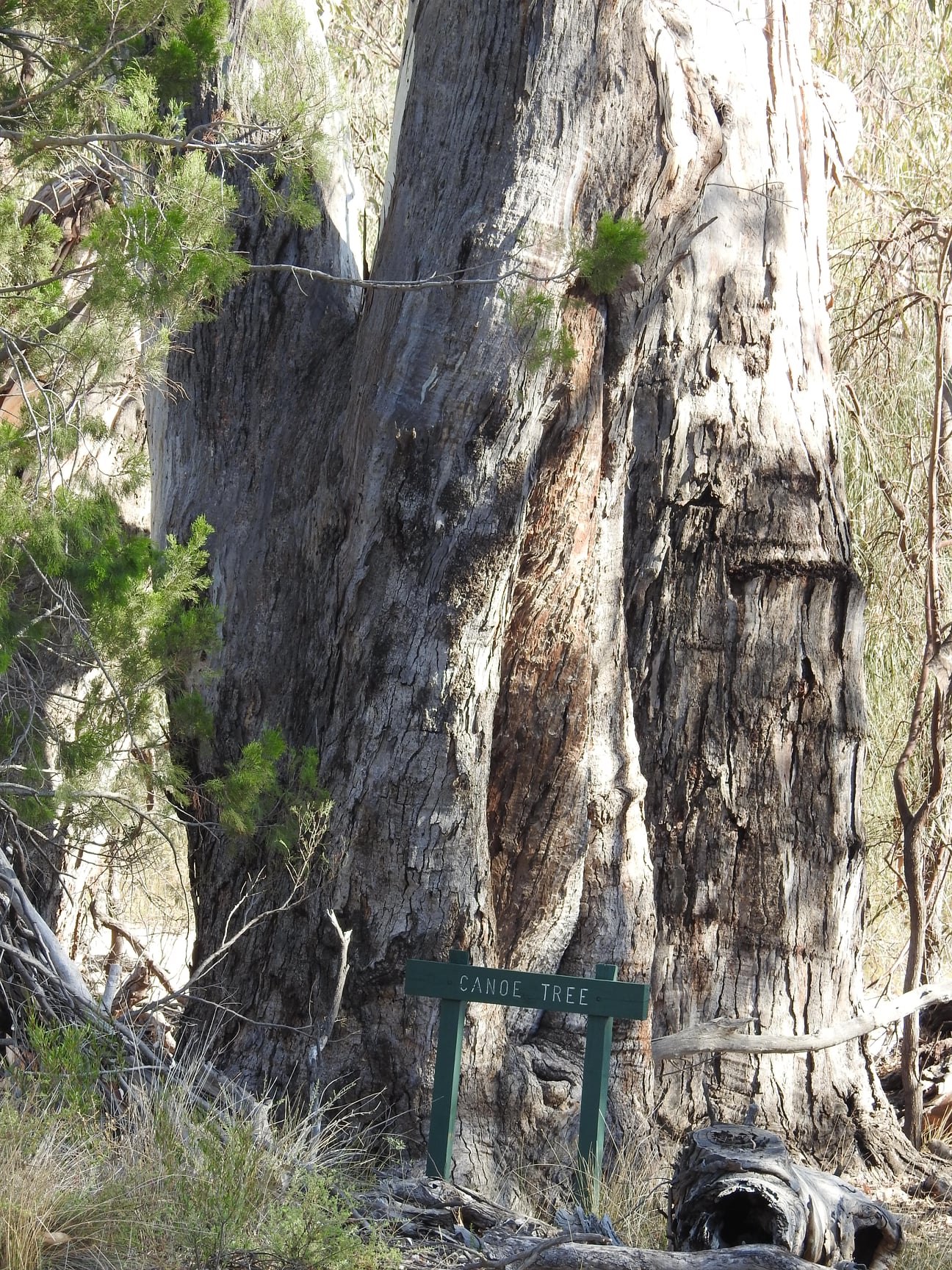 When I looked through all the photos I have collected over the last few years I came across so many photos of beautiful trees that had so many different purposes in our local landscape.
There were Canoe trees, trees with Mistletoe that provide food for Honeyeaters (e.g. Painted Honeyeaters) and many other birds, rough bark trees that provide great habitat for lizards, trees that provide wonderful nesting sites, trees with unusual pods that provide food for the Glossy Black Cockatoos, dead trees that provide hollows as nesting sites for  Superb and Turquoise parrots, bee trees for native bees that help in the pollination of agricultural and native plants, trees planted to honour our Veterans and trees we played in as kids.
Sadly I found photos I found photos of beautiful trees that have been removed along roadsides and in the middle of paddocks. Given it takes 15-20 years to grow a substantial shelterbelt it seems unreasonable that trees should be removed with little thought as to who might be using them as: a home, food source, nesting site, shade, windbreaks or as protection to cool farms dams.
Given it takes 100 years to produce a hollow in a tree, to see some of these old growth trees removed from our landscape is heart breaking. Some community members and landholders spend months growing seedlings to plant in wetlands and on farms while other members of the community spend time removing old trees for seemingly little or no reason.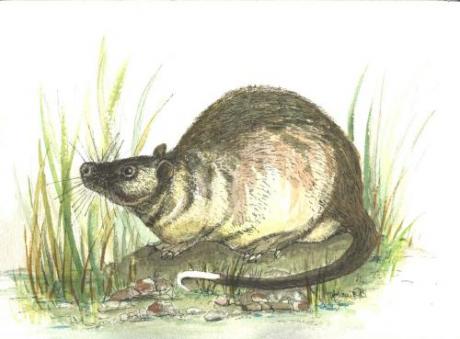 Narrandera Landcare started doing quarterly bird surveys at the Narrandera Wetlands 18 months ago and we are very appreciative of the help Alan and Nella give us to compile the surveys. We use the handy Birdata app and usually record around 30 species. Our last survey was 2 July 2020 and we observed 31 species.
A lot of the usual waterbirds (Egrets, Spoonbills and Herons) were noticeably absent but the woodland birds were abundant. The results can be seen here http://birdata.birdlife.org.au/survey?id=3159913&h=3dde711d
Whilst walking around the Wetlands looking for birds both Alan and Nella observed an Australian Water Rat swimming around and Nella said it rated as a "significant sighting". I didn't see it and couldn't get a photo.
Later that day I pondered the best way to somehow report this sighting – iNaturalist didn't seem the best platform due to the way it's structured (you basically need a photo). "Bio-collect" didn't seem right either, so I looked up the Australian Platypus Conservancy website https://platypus.asn.au/, who are also interested in Water Rats. Their sighting form was easy to fill in and submit,  and I got a very appreciative email thanking me for the observation. It included an attachment with information on Hydromys chrysogaster or Rakalis.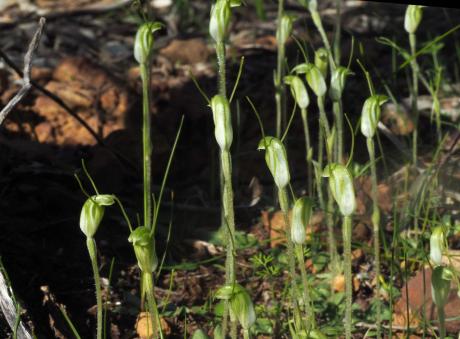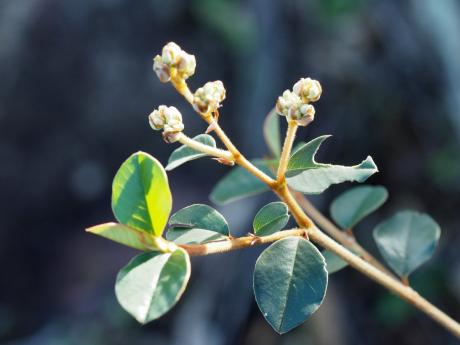 When John Oxley passed this way in June 1817 he wrote in his diary "We saw no game with the exception of three or four kangaroo rats, many beautiful small parrots were observed, and as barren as the scrub appeared to us, yet our botanists reaped an excellent harvest here. We passed over a rugged, barren, and rocky country for about four miles and a half when we ascended a hill upon our right which promised a view in all directions. To the southward, south-west and even west the country was a perfect plain, interspersed with more of those dreadful scrubs".  This may not have been Mt Caley or some hill nearby but it does indicate the toughness of the country with the impenetrable Cypress Pine and Acacia that he encountered but also the great diversity of plants found on the hills. He was however looking for grass and water for his horses to keep him going which appeared to be scarce. He called Mt Cayley Cave Hill and we should have looked under the ledge at the cairn for that cave.
On our walk in this relatively wet year we saw mounds of iridescently green mosses and Pomaderris cocoparrana seedlings emerging amongst the rocks with occasional last year's plants which were larger and had escaped chewing by goats with a few daring to flower.
The common Dwarf Greenhood (Pterostylis nana) was flowering everywhere. The hoods of the individuals in a clump face all different directions, this may be to increase their chances of pollinations by tiny fungi gnats. Remains of Autumn greenhood (Pterostylis revoluta ) were seen and the robust rosettes of Midget Greenhood (Pterostylis mutica)  yet to flower in Spring.
Steve turned over a rock to look at termites only to uncover a large green legged centipede (genus Cormocephalus)!  It must have been having a feast. Other invertebrates seen were a lovely Australian Golden Orbweaver (Trichonephila edulis) and an iridescent beetle (Pseudotaenia waterhousi).  (Thanks to identification from iNaturalist).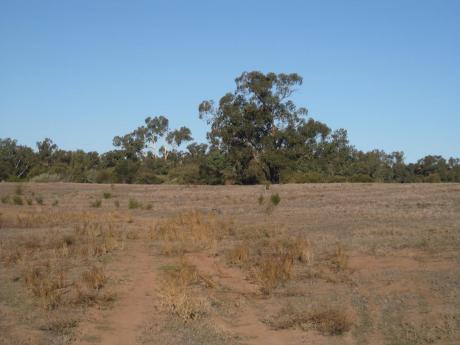 Recently I ventured to the Sandhills Rehabilitation block in MIA I - it being almost in my backyard. MFN did a fieldtrip there in May 2018, and we noted how the direct seeding done in 2015 was progressing, and we wandered around the early 2000's planting of tube stock by NSW Forests. Back then we could see some success with the direct seeding and generated a limited bird list from the older plantings on top of the hill.
I drive past this site quite regularly and could see changes but took advantage of a day off to explore a bit further. The sandhill has a green covering at the moment, so different from June 2018! Weeds are abundant but some native ground layer veg. is evident. 
The direct seeded species have grown considerably since 2018. This during two harsh summers and dry winters. It seems if the right plant can get established in the first couple of seasons, they can carry on almost regardless. The photos show the difference between 2018 and 2020.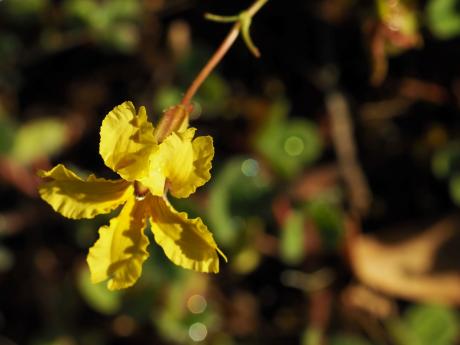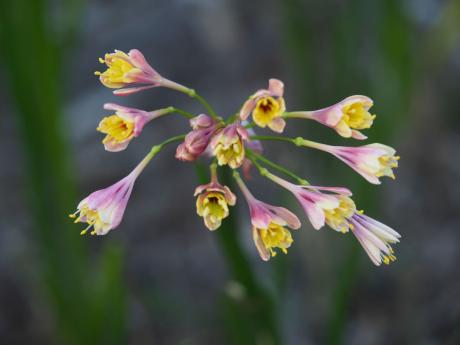 These sunny autumn days are great to explore the natural areas around Narrandera. The wonderful  thing is that you don't have far to go just to get to the Flora and Fauna reserve (the Common) and the Narrandera Regional Reserve with the Murrumbidgee River floating past.
Even the Travelling Stock Reserves near Narrandera are great floristically. And if you know what you are looking at you come to realise that most of the plants are native.
The Autumn rain and the warm conditions have caused some triggering of unseasonal flowering after our long dry spell.
The Sticky Everlasting a yellow paper daisy can be found on the roadsides. Lower to the ground you can see another yellow flower that resembles scrambled eggs. These are Goodenia genus and there are about three different species about, a tiny one, one that scrambles and one on a long thin stem.
Two purple flowering daisies can be found. One has hand shaped leaves and will leave you with little burrs in your socks. This one is commonly called Burr Daisy!!
The other shorter purple daisy has fine leaves and can be white or pink and much sweeter.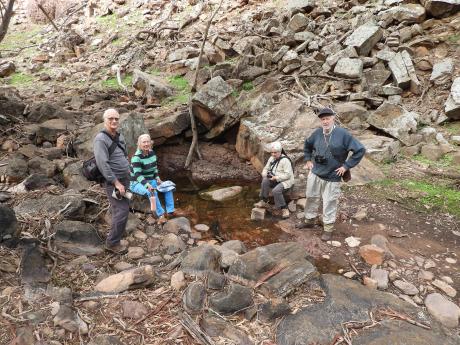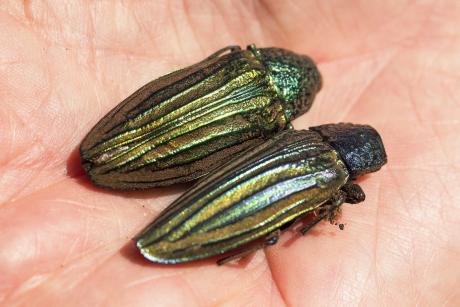 We all, for the first time this year clad in jumpers and jackets, assembled at 8.30am at Yenda for our Cocoparra Ranges outing on Saturday, March 13.
As I  alighted from the car at Jacks Creek Picnic area, I was fanned by the feather-soft, pale green fronds of a Weeping Wilga - the 'weeping' being my personal descriptor of this beautiful native bush - bountifully budding for a late Winter blossoming. As the bright, windless Autumn day warmed up we set off on our looped walk.
On ascending the track we were presented with a western vista of glorious green, where a month or so prior there had been only brown. The recent rains had also brought forth an array of wildflowers – ever the opportunists. Among these were the profuse white Native Tobacco, and the less abundant but even lovelier Blue Pincushions – and golden Cluster Everlasting Daisies.
Pages