28 Nov 2018 (All day)
For the next 3 months, you can help Wagga Wagga Urban Landcare raise funds by choosing to donate your
Return 
& Earn
refund to us!
Wagga Wagga Urban Landcare are now listed as a donation partner on the Reverse Vending Machines at Woolworths Wagga Wagga North (Gurwood St) and Woolworths Lake Albert Road. Simply return your containers as normal, then select the option on the machine to donate your refund, and pick Wagga Urban Landcare as your donation partner.
Please help Wagga Landcare raise funds, by returning all your drink containers over the Christmas/New Year period!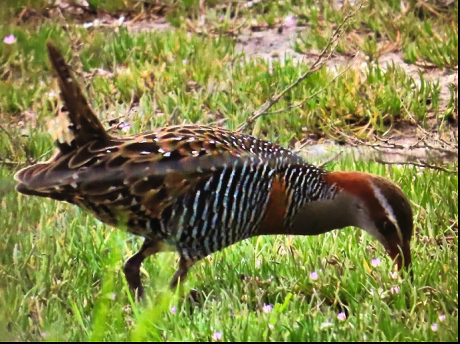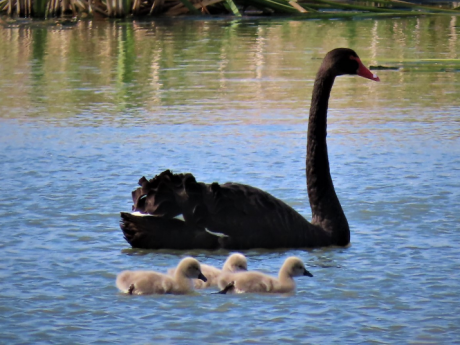 To the casual one-time visitor, Fivebough would appear to be pretty birdless as so many people have commented to me over the past month. However, to the keen observer and almost daily visitor, things are not as bad as they seem. Before lockdown, I had been frequenting the wetlands seeing what birds come and go and since we have restrictions in place in Covid-free Leeton, I have continued using the area as my 'exercise' area. Since then, Fivebough has been a mecca for dozens of people using the wetlands for the self-same reason as I do, namely, to exercise.
These days it is not uncommon, especially at weekends, to find a dozen or more cars parked along Petersham Road with family groups doing the circuit but not really taking much notice of what they see. There are, however, a very dedicated group of daily birdwatchers, like me, who go to see what changes have occurred and what new birds have come in and which ones have disappeared.
There was great excitement when a family of Magpie Geese ended up in the main northern pond with 10 goslings in tow! They were there for several days but on Monday the 23rd of August, they were nowhere to be seen and since then have not reappeared. What happened to them is a mystery as a fox or two couldn't take all 10 goslings overnight nor would the 4 accompanying escort adults allow that to happen as they are very defensive of their young. If they were moved it is inconceivable that the 10 chicks could have been moved any great distance. So their disappearance remains a complete mystery. The regulars still hope they will reappear but so far that hasn't happened so I suspect they have departed the wetlands – where to is anyone's guess.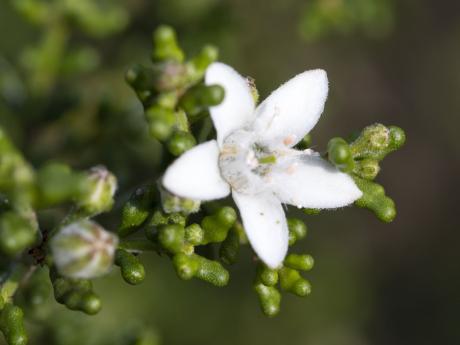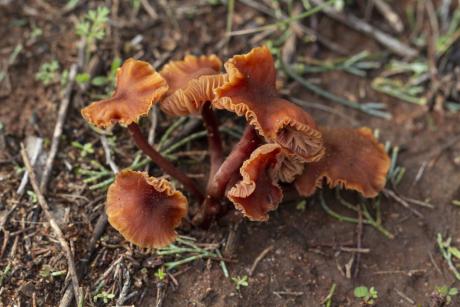 Did this forest exist in 1750 before Cook arrived ?  Of course it did.
The site of Gillenbah State Forest was probably a woodland with a shrubby understorey and with cypress pine regeneration.
In 1802 it was described as pine scrub which is likely to have been pine as a dominant species in association with box and a range of shrubby species.
The forest has been grazed with sheep and cattle since then. The leasees were meant to control rabbits and maintain fences but maybe they didn't. Lack of regeneration because of grazing and rabbit infestation meant that Cypress Pine was a diminishing resource. Grazing changed the composition of native grasses.
The stock compacted the ground and weeds infestation occurred around water points. The myxomatosis spread in the 1950's had limited impact in these forests. It was only when 1080 began to be used together with mechanical ripping of rabbit warrens in the 1960's that regeneration occurred.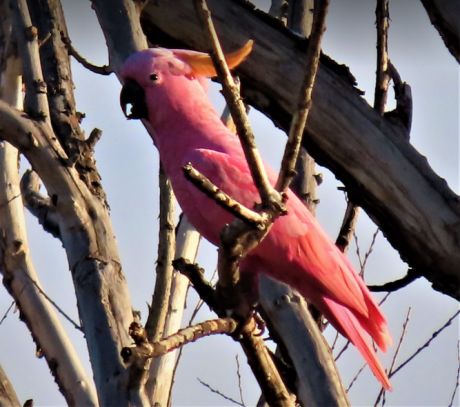 Red-winged Parrot:
A female Red-winged Parrot was photographed by Anne Lepper in her front garden in Catalpa Road on 15 June. She was quite surprised and submitted the photo to Australian Native Birds site on Facebook. It has been seen in her garden daily ever since, both morning and late afternoon often in the company of 8 or more Superb Parrots feeding in the same trees – Chinese Elms.
There was much discussion on Facebook about the bird and it appears that the bird escaped from an aviary in Wamoon when the cage that it was in blew over and the door came open releasing the bird. It was reported that 2 birds a male and female escaped but only the female has been sighted.
This bird is native to northern NSW and is found further north than here. There have been sightings of this parrot in Merriwa in the Upper Hunter which is unusual to be that far east of its normal range.
When my father was alive and I visited in Tamworth, I would often see them along the road just out of Coolah heading north. This is possibly the southern end of their range and they are very common in western Queensland and the Northern Territory with birds easily seen around Darwin.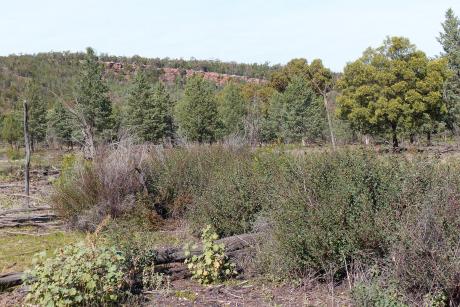 My original intention for this walk was basically follow the route we used to do some years ago but in reverse with the proviso of back-tracking from a lookout point instead of having a steep descent down to the creek above the picnic ground.  A quick reconnoitre with Rowena to check the best point to start the climb up the ridge found the lower slopes thickly covered in Purple Burr-daisy – no purple, all burr.  Two hours of pulling spiky bits out of trousers, socks, shoes, laces and at time fingers, said that plan B was required.
So the six of us that turned up (this most welcomely included the Ranger, Jess Murphy who wanted to learn from us more about her park) had a more leisurely stroll around part of the Flats.  The first part of our walk followed the foot of the cliffs to the end of the spur. Jess soon revealed her interest in butterflies when a couple fluttered by, only Common Browns and they scarcely settled on anything much to the chagrin of the photographers.  They did however spark a discussion on insects and other smaller things in life.  Why don't we pay more attention to these?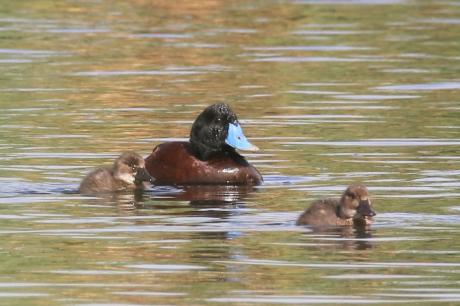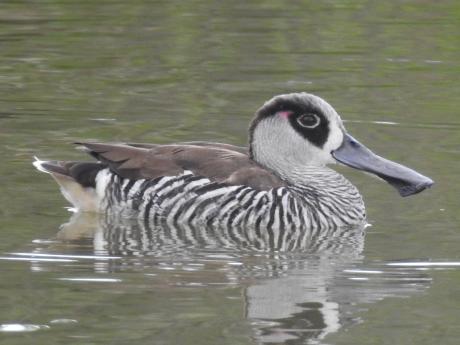 14 people made up the group for the outing. We met in the car park at Campbell's at 9am and David Kellett gave a brief talk to the group about some recent funding he had applied for and got for improvements to the track leading from the car park to the board walk and beyond along the northern section of the wetlands.
The group set off and at the start of the boardwalk, we split into two groups so as not to put too much pressure on the fragile boardwalk with so many of us going on it at once. So Nella took about half the group to the northern end whilst I took the remainder to the hide. Despite there being few ducks in the main open area as seen from the hide, with time and patience we ended up with a good selection of duck species as they eventually emerged from the cumbungi clumps and out into the open water. Blue-billed Ducks were definitely the highlight for us as up to 4 males were seen along with a couple of females. Musk Ducks were also great to see and there were 2 juvenile birds seen along with a resplendent male close to the hide showing his leathery lobe (dewlap!) quite clearly for all to see.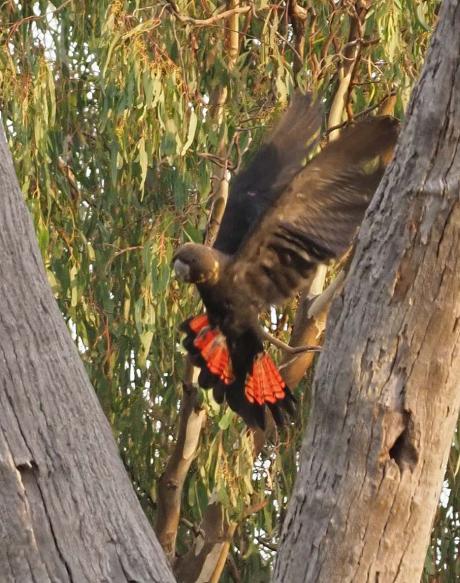 The Count was conducted a few weeks later than usual. We all probably wished that we hadn't done it at all when the wind blew up and bent the trees in half.
I think that this year we were counting breeding pairs and perhaps a young one hanging around from last year (maybe to learn the ropes). This thinking makes it more significant than ever.
One pair from the Narrandera Hills is already nesting which makes it an early starter.  Most birds have already paired up and are getting ready to nest by finding a hollow that she approves of. Some of the birds in Rankins Springs are just getting going. When she finds a suitable nest, she finally lays her one maybe two eggs. She stays in her hollow and he comes past and feeds her every evening. She's hanging out for a feed by the time he comes and starts calling. This could also be so that he doesn't get lost.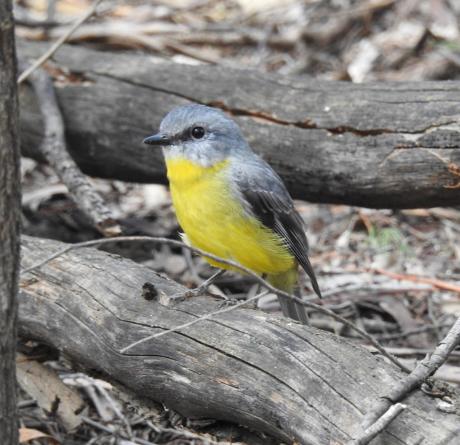 This was a combined outing with the local Camera Club and was very well attended by both groups.
It was also a last minute change to the proposed trip to Oolambeyan National Park but the rain during the week made the Oolambeyan trip impossible because of the road into the park.
However, the group happily started the trek up the escarpment in a clockwise direction which we thought would be easier in the damp conditions. The walk/climb was more of an exercise experience and a chance for the participants to chat and discuss what they were seeing as there wasn't much by way of wildflowers to photograph. Once up on the hill, good views were had of the surrounding countryside and there were many opportunities for the members to get some interesting photos. There was plenty of talk about various cameras and what each felt about their equipment and preferences.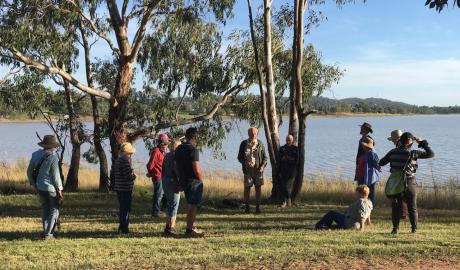 The Wagga Wagga Chapter of Murrumbidgee Field Naturalists began officially on 7 December 2020 when Alan Whitehead President of MFN's was guest speaker at a meeting with local nature and bird enthusiasts held in Wagga Wagga.
Alan spoke passionately. Sharing his experiences of being a MFN member and participating in field trips and bird/plant sightings and recordings. He informed the meeting that the MFN group is now 25 years old and it facilitates and promotes the knowledge of natural history, encouraging the preservation and protection of the Australian natural environment, especially that of the Murrumbidgee River Valley.
MFN also forms a network of other field naturalists across the country who observe, collect and document field data on birds, habitat and wildlife on a continuing basis. Data collected accords with scientific protocols and is recognised and cited as source research by governments of Australia and universities around the globe.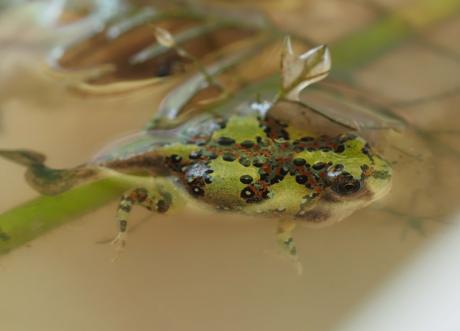 Nella and myself have been taking advantage of the wetter than usual summer to see what frogs are around Narrandera this year. A few locals have joined us on our forays and have enjoyed learning about frogs and the Frog ID app.
We've been using the Australian Museum's Frog ID app on an ad-hoc basis for a couple of years now to record frog calls. We then submit them and get them verified. This is a great and simple Citizen Science project anyone can get involved with.
We're fairly familiar with the calls of about six of the common frogs of the area and where we can find them, but the more we looked this year, the more we learned.
Our visits to Narrandera Wetlands were positively quiet on the frog front this summer. This is excellent habitat and is usually rewarding but for some reason the frogs weren't particularly vocal this year. The frogs we heard were less than the usual ones we expected and not in any great numbers.  And our visits to Rocky Waterholes didn't seem to have any frogs calling at all!
On our drives through the old quarry site on Bundidgerry Hill  we were surprised by the number of frogs calling from the puddles which had filled from the summer rain. Among the various species we recorded many Uperoleia rugosa Wrinkled Toadlets. We hadn't recorded this one before so it was unique to us. It's not endangered, or particularly special, just having a good year I guess.
Our most surprising site was a small bog on another part of Bundidgerry Hill. Nella was furious at the local hoons who have been driving through this bog and we've had a few discussions about whether they're destroying habitat or creating it. It really is debateable!
Pages